Guide to Selling your Share Certificates
Before using this service, please ensure that your share certificate(s) are valid and have the correct name and address on them. If you are unsure, please contact the company registrar whose details can normally be found on the share certificate.
You must hold a valid share certificate when selling shares through this service. If your certificate is invalid or cannot be used for any reason to settle the trade, we may need to buy back all or some of the shares to settle the trade in the market. If we do this the shares may be repurchased at a higher price. You will be liable for any costs incurred for cancelling or amending the deal.
Step 1
Complete the share sale form contained in the pack. Please ensure you read the Q&A section prior to completing the form.
Step 2
Complete a CREST transfer form for each stock you wish to sell - one form is included in the pack. If you have multiple certificates for the same stock you only need to complete one transfer form.
Additional CREST transfer forms together with an example of how to complete a transfer form can be found by clicking on the "transfer form" link at the top of this page.
Step 3
Send the completed share sale form, signed transfer form(s) and share certificate(s) to:
Jarvis Investment Management Ltd, 78 Mount Ephraim, Tunbridge Wells, Kent TN4 8BS
What Happens Next?
Once we have received your documentation, your shares will be sold as soon as practicable after receipt *. You will be sent a contract note (either by email or post) for each sale, which will confirm the details of the sale - this should be retained for tax purposes.
The settlement date is ten business days following the trade date and, assuming the settlement is successful, the proceeds will be sent directly to your bank account by BACS.
Please note banks take 2 - 3 working days to process BACS payments.
* We always attempt to complete ID checks electronically, however sometimes this isn't possible and you'll need to provide valid original or certified documents. Once we have completed our ID checks on receipt of the documents, your holdings will be sold.
CREST Transfer Form
CREST Transfer Forms can be downloaded by clicking on the download button below. These must be completed and returned for each stock you are selling i.e. if you have one share certificate for Shell and one share certificate for Barclays you will need to complete two transfer forms (one for each stock). If, however, you have three share certificates for Shell and one certificate for Barclays you still only need to complete two transfer forms - one for the total amount of Shell shares and one for Barclays.
Please make sure that you fill in the following details:
| | |
| --- | --- |
| Name of undertaking | The company name (i.e. Barclays or Vodafone) |
| Description of security | Security description (i.e. ORD GBP1 or ORD USD0.10) |
| Amount of shares in words | Write the number of shares in words |
| Figures | Write the number of shares in figures |
| In the name(s) of | Please enter your full name and address, exactly as it appears on your certificate |
| Please sign here | All of the registered holders of the certificate need to sign the form |
You can leave the rest of the form blank and we will complete it for you. If you are still unsure how to complete the transfer form, please look at the following CREST transfer form sample.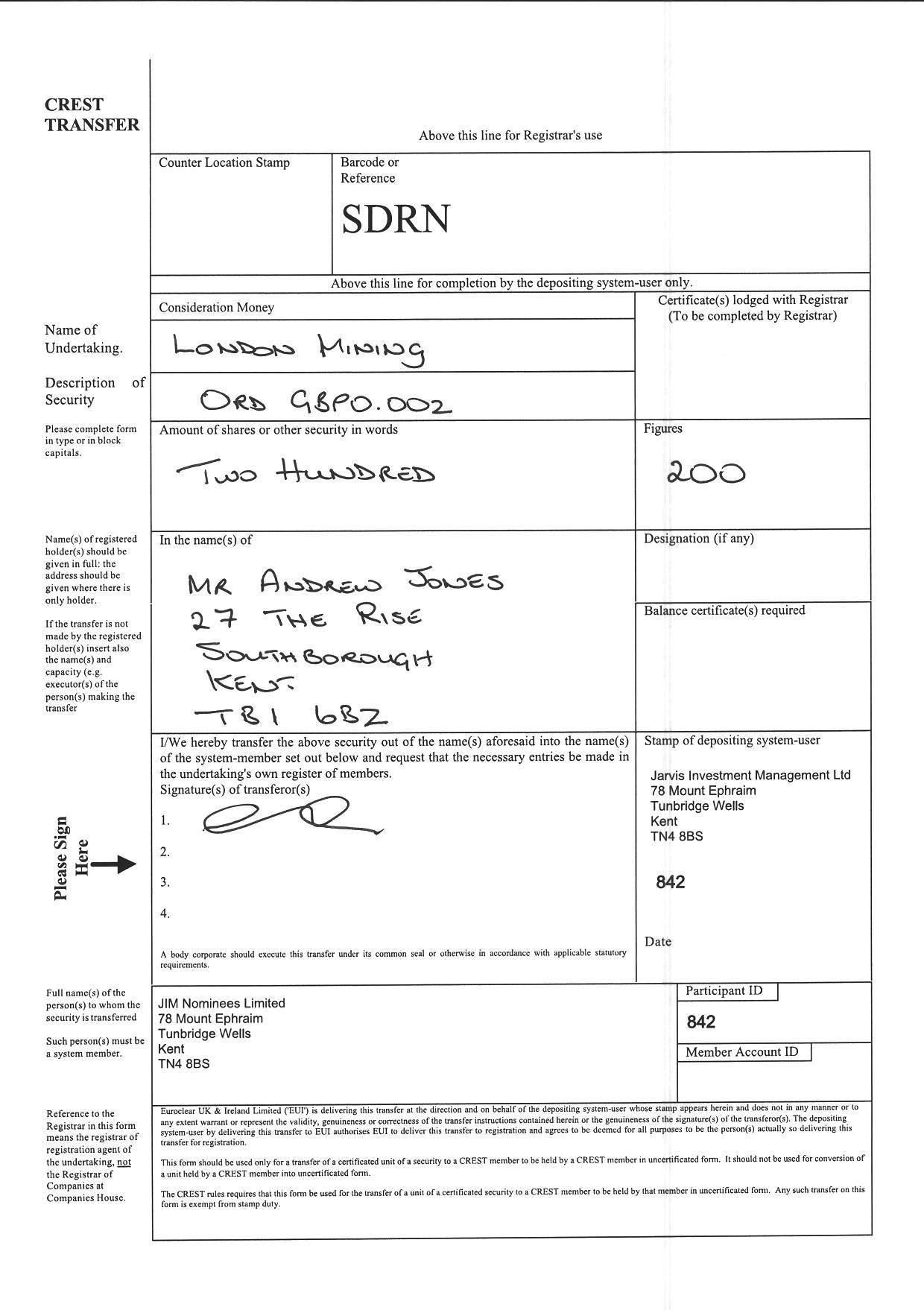 Complaints Policy
In the event of a complaint regarding our service, please write to:
The Compliance Officer Jarvis Investment Management Ltd 78 Mount Ephraim Tunbridge Wells Kent TN4 8BS
Or email sellmysharecertificates@jarvisim.co.uk
When we receive your complaint we will log it in our register and try to resolve the matter straight away. If we are unable to do this, we will normally provide a written acknowledgement of your complaint within 3 business days of its receipt.
Once our investigations are complete, we will write to you with our final response. Unless we have been able to resolve the matter straight away, our final response will notify you of your right to refer your complaint to the Financial Ombudsman Service (FOS) if you remain dissatisfied - a copy if the FOS leaflet will also be included.
You may contact the Financial Ombudsman Service at:
The Financial Ombudsman Service Exchange Tower London E14 9SR
You can also contact them online via their website at: http://www.financial-ombudsman.org.uk/consumer/complaints.htm